Meditation is often thought of an activity requiring one to sit still. I recently learned that sitting meditation can be a very moving experience in more ways than one.
This past June I had the opportunity to spend 10 days at a meditation retreat lead by Will Johnson in New Hampshire. The setting was a beautiful, charming estate in the woods with a rambling and lovely old country house. The food was both artfully served, delicious and included locally grown fresh vegetables.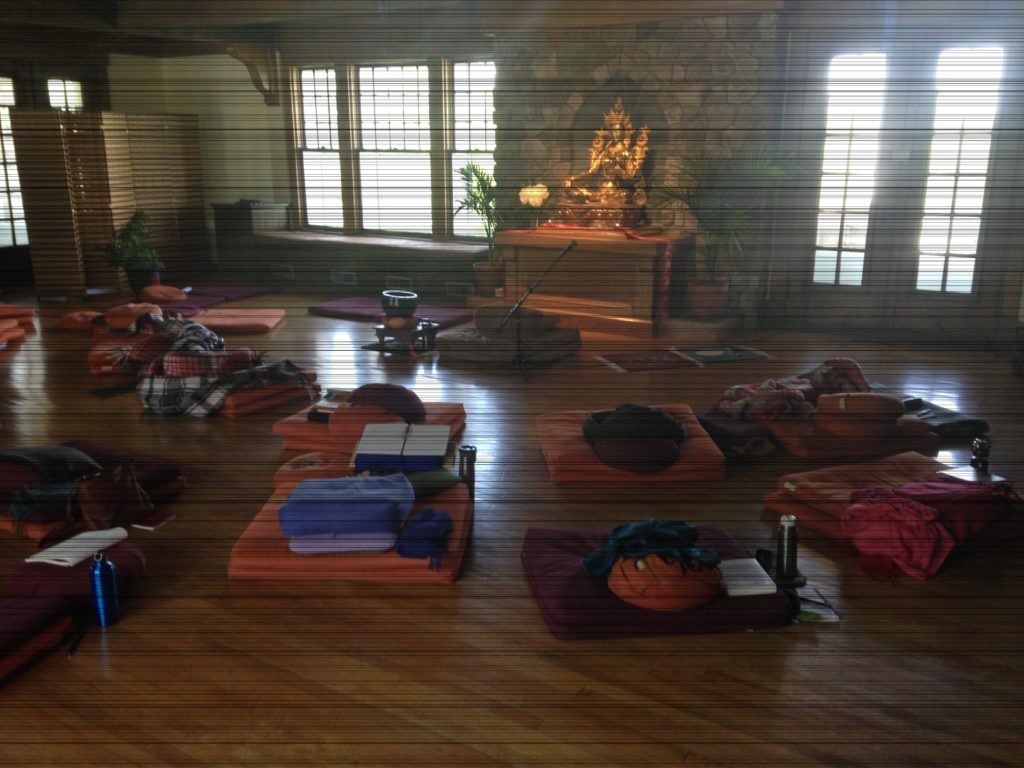 I was invited to be a participant at no charge and meditate with the group. In exchange for my food, housing and Buddhist practice, I was to provide Rolfing sessions for the paying customers with the intention of enhancing their sitting posture.
My schedule was a rigorous one with five and a half hours of meditation in the morning, one and a half in the evening and my giving Rolfing sessions during the afternoon.
The first day I sat uncomfortably eating my oatmeal in a room full of silent strangers. Maintaining quiet throughout a meditation retreat is referred to as keeping "Noble Silence." Traditionally this practice begins with a vow to keep silent for a specific period of time, be it a day, a week, or a month.
There are some practitioners who have kept Noble Silence for years. A life of time silence in India is called 'maun.' Noble Silence is a rest for all of the senses. It requires that you abstain from stimulation such as the radio, phone, television, and talking. During this period of quiet, you may develop a greater awareness of the sounds and sights around you. Noble Silence is a way to cultivate higher levels of hearing, perception, and vision.
I have been fascinated for years with the work of Wil Johnson, a Buddhist practitioner who was trained by Ida Rolf in 1976. He has since been cultivating and enhancing his meditation practice with the lessons he learned from Dr. Rolf. As a young student Will asked Dr. Rolf about the impact of breath on the human body. Will was profoundly impacted by her reply:
" As breath moves through a well integrated body every joint in the body should be able to respond to that movement and that includes the joints between the small bones in the feet as well as the tiny sutures in the skull." Dr. Ida P. Rolf
Dr. Rolf's premise may sound simple but it is not; embodying it can be a lifelong journey. As Will continued to meditate he began to welcome his body's physical response to his breath. He noted the areas of chronic tension and rigidity in his body. These holding patterns inhibited his breath and movement.
Concurrently, he received a Rolfing series. Rolfing helped Will to let go of the tight and unyielding places in his body. Additionally, Rolfing helped him to become more vertical in sitting. As his alignment improved he was able to relax more and effortlessly stay upright. He was no longer battling with gravity. He was able to receive gravities support.
Will realized that Rolfing had the potential to take the pain out the meditation experience. Additionally, he found that by exploring the subtle interface between breath and movement he could deepen his meditation practice.
"Breathe in through the whole body, breathe out through the entire body" was the first direction given to us in the meditation hall. During the subsequent 10 days Will led us on a journey during which he shared generously his extensive knowledge of Buddhist spiritual practice. He often illuminated his teachings with humor, visual images and movement cues. "Just as the spine is not a roman column, the ribs are not an internal shield. The spine is in constant motion. Breath billows down thru the pelvic floor with the inhale and back through the top of the head with the exhale."
Will has made it his mission to help people embody the ease of sitting along with resilient movement. Since the 1970's he has been working as a Rolfer and meditation teacher as well as authoring a series of books that illuminate his work. His intensive meditation retreats embody the work of Ida Rolf.