David Frome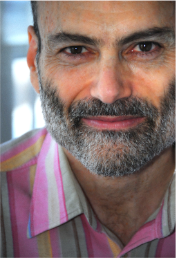 David Frome, Physical Therapist, Advanced Rolfer, Five Element Acupuncturist  and Craniosacral Therapist is a recognized leader in the field of holistic therapies in the tri-state region. He was the featured Rolfer in Thomas Claire's "Body Work" and has been described by his clients as a powerful and unique practitioner.
David has made a career of helping people recover from chronic and difficult musculoskeletal and neurological problems. He draws on three decades of experience in physical therapy, Rolfing and acupuncture, developing innovative diagnostic and treatment techniques to deal with complex problems. David currently specializes in Rolfing children and he is also an acupuncturist for people of all ages. Many patients arrive with chronic and difficult musculoskeletal problems, but David is also highly skilled in treating headaches, depression, anxiety, immune system, respiratory and digestive disorders.  He treats both men and women with hormonal imbalances, infertility and works with women throughout pregnancy and  childbirth.
As a pediatric physical therapist, David has treated hundreds of infants, babies and children, including those with orthopedic and neuro-developmental problems. He has cultivated his practice to meet the needs of children with structural challenges such as toe walking, pigeon toes, scoliosis and more. David delights in serving the community of children to grow with greater freedom, ease and support from their bodies.
David's expertise has been honed over the past 37 years as teacher at The University of Medicine and Dentistry of New Jersey (UMDNJ), The Eastern School for Acupuncture and in his private practice located in Asbury Park and Montclair, NJ.