Baby Allergy/Asthma Air Cleaners
Austin Air Allergy Machine Jr™ HEPA Air Cleaner/Baby's Breath™
Limit your baby's exposure to allergens & chemicals.
Revolutionary carbon fiber filter (HEGA) removes odors, toxic chemicals, gases and tobacco smoke from the air.
Large HEPA filter removes dust mites, pet dander, pollen and mold spores from the air.
Allergy Machine Jr.™ is for people with allergies, asthma, sinusitis, rhinitis and anyone who wants the freshest air.
Baby's  Breath™ is identical to Allergy Machine Junior. Choose pink or light blue in the drop down menu.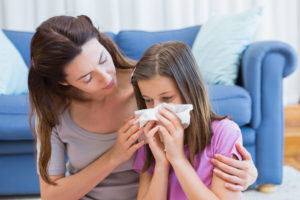 Features
HEGA  (high efficiency gas absorption) is a special carbon fiber that provides ten times the surface area of traditional activated carbon.  Developed by the British military, this massive surface area works like a sponge to bond with and absorb toxic chemicals, odors, gases and tobacco smoke and remove them from the air. Unlike traditional activated carbon pellets, HEGA releases no carbon dust.
Additionally, the HEPA media removes 99.97 percent of all particles greater than 0.3 microns, including pollen, mold spores, dust mites, pet saliva, pet dander, microorganisms (bacteria and viruses) and other allergens from the air. 
Austin Air cleaners are economical to run and to maintain. It costs less than 25¢ a day to run, which is similar to the cost of having a light on. Since the filter lasts a full five years, you save a fortune on filter replacements. 
The Austin Air products are built to last. The body is all steel and powder coated with a nontoxic finish. The motor is highly efficient designed to be run continuously, 24 hours a day, 7 days a week, and 12 months a year for a minimum of five years. 
Made with pride in the USA
Other machines require 10 to 20 filter changes in the same time period and will cost two to three times as much to maintain.
Specifications
Allergy Machine Junior™ Technical Specifications
Cleans a room area of up to 700 sq. ft
Height: 16.5″, Width: 11″ x 11″
Weight: 12 pounds
Permafilt™ Pre-filter
Traps large dust particles
Designed to be vacuumed from outside
Eliminates costly filter changes
Fan Rating
125 actual cubic feet of air per minute (cfm) on high setting (Don't be fooled by our competitor's claims of higher cfm ratings!)
Cleans a room area of up to 700 square feet
Filter Assembly
HEPA filter with activated carbon and zeolite Blend
9.5″ diameter, 11.25″ height
Thirty square feet true medical grade HEPA filter medium
HEGA Activated Military Carbon Cloth
Meets HEPA standards, trapping 99.7 percent of all particulates larger than 0.3 microns and 95 percent of all particles large than 0.1 microns
Metal endplates
Foam sealing gaskets top and bottom
Weight: 2.5 pounds
Fan and Motor Assembly
3 speed centrifugal fan
Power rating: 1.0 amps, 120 volts
80 watt power consumption at highest setting
Motor type: Permanent split capacitor (PSC), rated for continuous high RPM
Motor mounted on shock absorbers
CSA, NRTL and CE approved
"I would recommend an Austin Air Cleaner to anyone that deals with allergies or chemical sensitivities. It makes a huge difference in your health."