Hawaii Air Cleaner
Austin Air HealthMate Plus™ Air Cleaner
Best HEPA Air Purifier For Hawaii.
Features
15 lbs. of Special Blend – HealthMate Plus™ adds potassium iodide, a chemisorber, to the activated carbon mix.  Chemisorbers break down chemicals into smaller molecules so they can be easily adsorbed by the activated carbon; that is, the smaller toxic molecules including sulfur dioxide, formaldehyde, petroleum dystolates and hydrocarbons  stick to the surface of the activated carbon and are therefore removed from the air.
The HealthMate Plus™ uses over 60 square feet of true medical grade HEPA media to remove 99.97 percent of all particles greater than 0.3 microns, including, microorganisms, pollen, mold spores, dust mites  and VOG from the air.
The HealthMate Plus™ is built to last – The body is all steel and powder-coated with a nontoxic finish. The motor is designed to be run continuously, 24 hours a day, seven days a week, 12 months a year for a minimum of 5 years. Austin Air stands behind this promise.
HealthMate Plus™ is economical to run and maintain, costing less than 25 cents a day, which is similar to the cost of having a light on. Since the filter lasts a full five years, you save a fortune on filter replacements. Other machines require 10 to 20 filter changes in the same time period, costing two to three times as much to maintain.
Austin Air HealthMate Plus is recommended for removing both chemicals and particles from the air.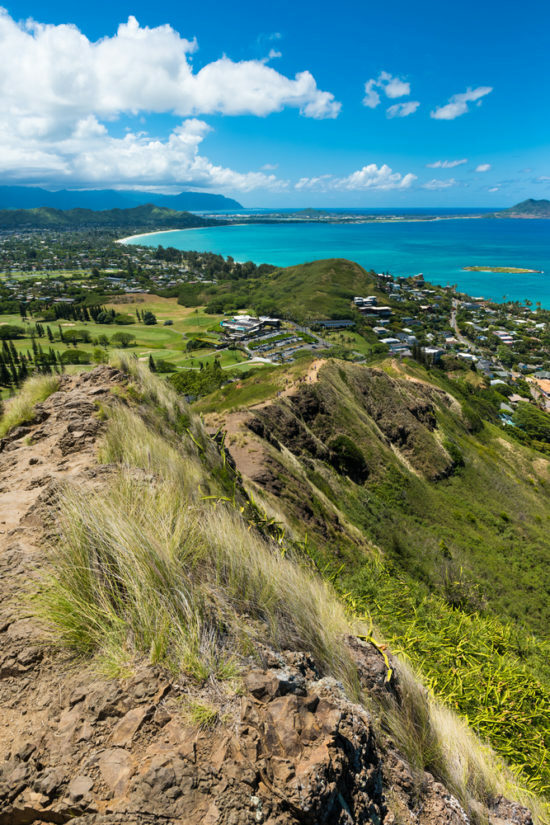 Pillbox Hike Over Kailua Oahu Hawaii
Specifications
HealthMate™ Plus Technical Specifications
Covers 1500 square feet – a one story home or apartment
Height: 23″, Width: 14.5″ x 14.5″
Weight: 45 lbs
Filter Assembly
13.5″ diameter, 14.5″ height
Sixty square feet true medical grade HEPA filter medium
Nearly 15 lb. mixture of solid activated carbon zeolite and Ammoniasorb
Meets HEPA standards, trapping 99.7 percent of all particulates larger than 0.3 microns and 95 percent of all particles large than 0.1 microns
Metal endplates
Foam sealing gaskets top and bottom
Weight: 23 pounds
Permafilt™ Pre-filter
Traps large dust particles
Designed to be vacuumed from outside
Eliminates costly filter changes
 Fan Rating
250 actual cubic feet of air per minute (cfm) on high setting (Don't be fooled by our competitor's claims of higher cfm ratings!)
Cleans a room area of up to 1500 square feet
Fan and Motor Assembly
3 speed centrifugal fan
Power rating: 1.2 amps, 120 volts
132 watt power consumption at highest setting
Motor type: Permanent split capacitor (PSC), rated for continuous high RPM
Motor mounted on shock absorbers
CSA, NRTL and CE approved
"Thank you for the great service and greatly reduced cost of shipping your air purifiers to Hawaii. What a wonderful difference the HealthMate Plus has made. I'm very grateful that we found your Air Cleaner Store." M.O. Honolulu, HI